No one expects that one day, they may have to deliver lifesaving first aid on a loved one. But in an emergency, having these skills can mean the difference between a life saved and a life lost.
St John Ambulance Cymru are encouraging people across Wales to book onto a first aid course with one of their trusted trainers this September, as part of the annual Save a Life September campaign. You never know when an accident at home could occur, and St John Ambulance Cymru want to arm as many people as possible with the skills required to help a loved one in need.
Emma Williams was just 17 when she undertook a first aid training session at Glynllifon College in Caernarfon with St John Ambulance Cymru Community Trainer, Ryan Cawsey. Emma learnt the basics of first aid, including CPR and how to stop somebody from choking. Just 48 hours later, Emma applied the skills Ryan had taught her and saved her little sister's life.
Emma and her family were enjoying their dinner when her six-year-old sister Magi began to choke. Emma remembered what to do and bravely dislodged the food from her sister's mouth using back blows, allowing her to breathe again. When Magi caught her breath, she told her sister "I love you".
Emma commented, "At the time I just automatically followed what Ryan taught me. But thinking back, I now feel very proud to have saved my sister's life".
The invaluable skills Emma learnt at her first aid course meant that she was confident to act quickly and save Magi's life.
You too can be there for your loved ones in an emergency by learning first aid with St John Ambulance Cymru. The charity offers a variety of commercial training courses, along with free demonstration sessions for schools and community groups. If you'd like to find out more about St John Ambulance Cymru's training sessions, please visit www.sjacymru.org.uk/en/page/training.
If you'd like to support St John Ambulance Cymru's work in the communities of Wales, including the free training sessions the charity delivers to schools and community groups, please visit www.sjacymru.org.uk/en/page/donate to make a donation today. Your donations help to train potential lifesavers like Emma.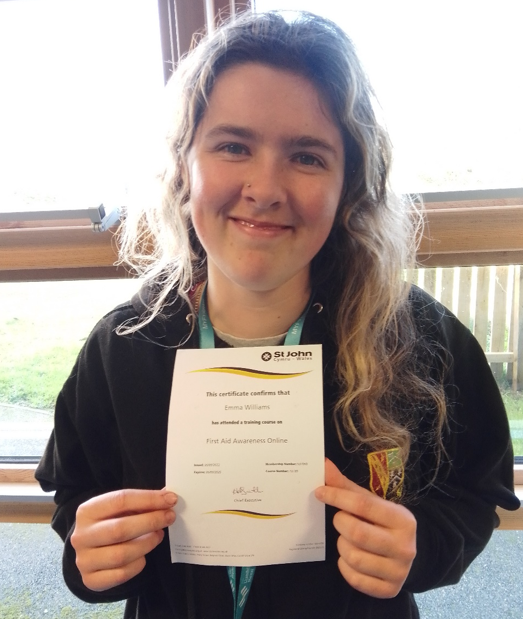 Emma with her certificate.