Helen Smith
Chief Executive Officer
Helen joined St John Ambulance Cymru in 2014 as our Director of Finance and has held the role of Chief Executive Officer since January 2019.
A Fellow of the ACCA, Helen has a huge breadth of experience working in in senior leadership roles in the third sector, bringing change, improvement and modernisation and supporting charities to realise their full potential.
Helen brings passion and enthusiasm to leading this much loved and valued charity, supporting it to grow and develop in order to maximise support and impact in the communities of Wales.

Andy Jones
Director of People and Organisational Development
Andy arrived as our Director of People and Organisational Development in August 2019, having previously worked in various not for profit organisations, prior to which he held a number of senior positions within the NHS.
Fellowship with the CIPD, Andy has a breadth of experience within operational and strategic human resources management with a significant portfolio of managing large scale programmes of change. He's passionate and committed to strengthening people engagement, workplace health and the Charity's equality, diversity and inclusivity agenda. He previously received national recognition for excellence within his field and is a key influencer in creating a place where our people can grow, realise their own potential and achieve success.
Andy is responsible for People Services, Youth Services, Safeguarding and Health & Safety.

Darren Pritchard
Director of Finance
Darren was appointed as our Director of Finance and Corporate Services in September 2020, having joined St John Ambulance Cymru after over a decade of working within third sector senior financial management positions. He is a qualified Fellow of the ACCA with over 30 years of financial experience.
Darren has overseen development and change across business activities, achieving improved and more efficient practices that have led to better value for money and more effective use of resources. This work has allowed more money to be available to front line activities, further delivering the mission and objectives of the organisations involved. He is committed to ensuring the ongoing great work of St John Ambulance Cymru is maintained, and sustainable.
Darren is also responsible for IT and systems, procurement and property and facilities management.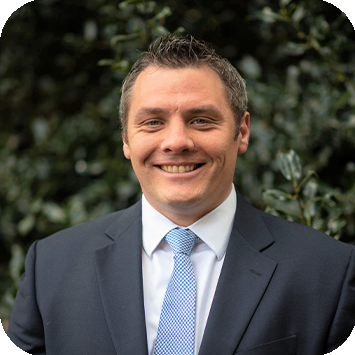 Benjamin Savage
Chief Operating Officer
Benjamin joined our senior management team as Chief Operating Officer in June 2021.
Arriving from St John Ambulance in England, who he first joined as a volunteer, he held the role of Head of Planning and Programmes for Event Planning, having previously been in position as their Ambulance Operations Manager for Greater Manchester.
Having led and implemented major improvement programmes in his previous roles, and working and volunteering on the front line across the pandemic, Benjamin's passion for patient care and enhancing community services has been a constant throughout his career.