A St John Ambulance Cymru Cadet has been awarded the 'Tom Jones Award' for Outstanding Volunteering Contribution by a Young Person.
Chloe Hellen, 14, from Buckley, was one of four people to have been given the award this year and was nominated for her extraordinary volunteering work in her local community.
Presented by Flintshire County Council, the awards are named in honour of the late Tom Jones OBE, a founding trustee of Flintshire Local Voluntary Council, and recognise the volunteering work of young people in the county.
Chloe has been a Cadet with us for two years and has not only completed outstanding volunteering work alongside us, but has also given her time to a whole host of other community activities, including foodbank collections. In 2019, Chloe spent her Christmas Eve at Deeside Hospital delivering gifts to patients.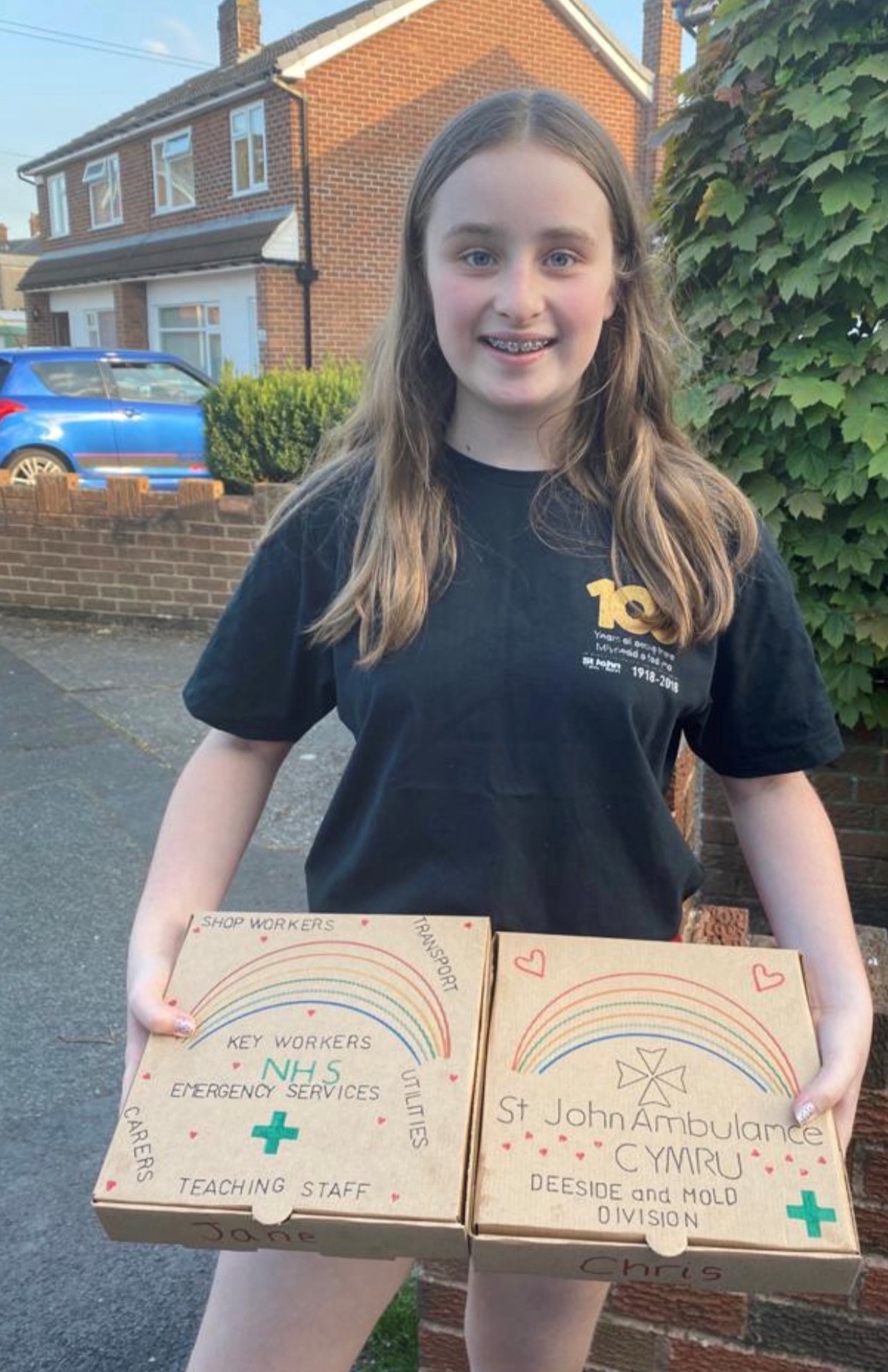 When the COVID-19 pandemic began last year, Chloe's efforts showed no signs of slowing. Instead, throughout 2020 she put her baking skills to good use - making and delivering loaves of bread to those in her community who needed it most.
Not content with just delivering bread, Chloe set up pizza nights and with the help of her parents, she set about raising the spirits of her neighbours and local keyworkers by bringing them homemade pizzas, complete with personalised boxes which featured important information about staying safe during the pandemic.
Chloe, who is also a member of the Commissioner for Wales Children's Advisory Panel, didn't accept any payment for her work and instead, asked for donations to go towards supporting St John Ambulance Cymru Deeside and Mold, her local division.
Tracy Sankey-Jones, St John Ambulance Cymru Cadet Leader in Deeside and Mold, nominated Chloe for the award.
"In the short time Chloe's been with us, she's shown true community spirit.

Our community needs people like her, a young lady that only ever thinks of others and dedicates her spare time to making Flintshire a better place.

I couldn't be prouder of her."

St John Ambulance Cymru, Deeside and Mold Cadet Leader, Tracey Sankey-Jones
"We're all so proud of Chloe and her efforts to raise community spirits in these difficult times.

Chloe's a perfect example of what St John Ambulance Cymru is all about - well done Chloe!"

St John Ambulance Cymru, Youth Development Officer, Kimberley Burns
"I'm really proud to have received this award. I love being a part of St John Ambulance Cymru because I really enjoy helping people. I can't wait to join back up with my division and my fellow Cadets once it's safe!"

Chloe Hellen
Chloe continues to play a huge part in supporting her community. She will be formally presented with her award at her local county Youth Awards ceremony later in the year.