St John Ambulance Cymru's Carmarthen Division have recently received a substantial grant which will fund their lifesaving work in the community and encourage more individuals to get involved with volunteering.
The project has been funded by the UK Shared Prosperity's Sustainable Communities Fund in Carmarthenshire, and St John Ambulance Cymru are thrilled with the lasting effects the grant will have for both the charity and the wider community. The grant aims to strengthen the social fabric of communities and the project will update the Carmarthen Division's building, allowing for more community events and better facilities for volunteers and learners.
The Carmarthen Division is a centre for youth and adult volunteers who provide vital first aid demonstrations, training and first aid cover at events across Wales. The building is not only a base for the division's charitable activities but is also used by various other community groups throughout the year.
This grant will refurbish and rejuvenate the division's building, enabling an increase in volunteering opportunities for local people and enhanced community wellbeing through access to improved, safe facilities. The project will make the building more accommodating and inclusive to all members of the public, with improved disabled access and baby changing facilities.
The grant will not only allow the division to purchase a brand new defibrillator, a vital piece of lifesaving equipment, but volunteers will also get new IT equipment. These additions will enhance volunteers' learning experiences as they develop first aid skills like CPR and defibrillation. It will also improve the public's experience when they visit the division for free demonstrations and events. The project will have long-lasting, positive implications for the wider community, resulting in more first aiders on the streets and a stronger community bond.
Daniel Elias, Carmarthen's Divisional Officer in Charge, commented;
"It means a great deal to all of us at Carmarthen Division. Our division will get a new lease of life which will benefit not only volunteers but also the public that attend our open days, first aid demonstrations and various other events we hold.

We will be able to cater for the wider public including those with disabilities, with our divisional building becoming fully accessible for people with mobility issues."

Since the pandemic, volunteer numbers at the division have fallen, but members are hopeful that the improved divisional building and facilities will attract new volunteers and teach more people vital first aid skills.
St John Ambulance Cymru would like to say a huge thank you to the UK Shared Prosperity's Sustainable Communities Fund and are excited to embark on the project.
If you'd like to find out more about volunteering with St John Ambulance Cymru, please visit www.sjacymru.org.uk/en/page/volunteer.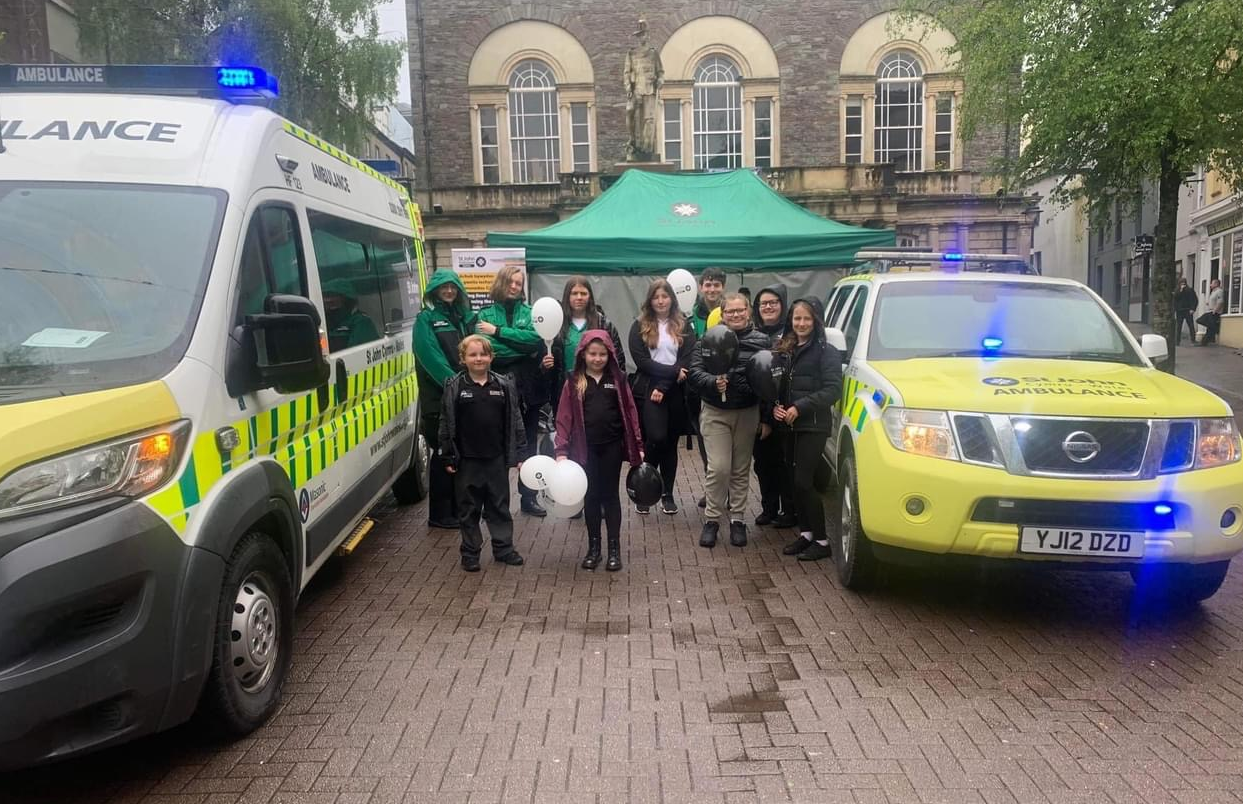 Some of the division's younger members at a recent fundraising event in Carmarthen town centre.