Chartered Surveyors Julian Dyer & Co of Abergavenny have worked with St John Ambulance Cymru to provide a lifesaving defibrillator for the people of Tregare and Raglan, ensuring residents have a higher chance of survival if the worst happens.
The defibrillator has been installed at the Cuckoo Camp Club on Warrage Road, Raglan, and is available for the wider community to use 24/7 in an emergency. Prompt CPR and defibrillation can mean the difference between a life saved and a life lost, so this piece of equipment really is vital to the community.
Julian Dyer is a Mitchel Troy United Community Councillor for Tregare Ward, and a local resident, so looking out for the community is something very personal to him. Since he was elected, the issue of having a nearby defibrillator has been raised frequently, so Julian decided to do something about it.
His company, Julian Dyer and Co Chartered Surveyors, had funds available for charitable donation, so approached St John Ambulance Cymru to arrange the purchase a brand new defibrillator. With a mission to save lives and enhance the health and well-being in the communities of Wales, St John Ambulance Cymru were more than happy to assist with the project by sourcing the defibrillator and it's cabinet. The charity also covered the defibrillator's installation costs with Julian Dyer & Co's donation.
"I made contact with the Cuckoo Club committee who generously agreed that the defibrillator could be mounted there, subject to my company taking responsibility for it's maintenance" Julian recalls.
The Cuckoo Club is a central Social Club in the area, so is an accessible place for the wider community.
"The new defibrillator has now been installed and St John Ambulance Cymru are organising a meeting at the club at 10.00am on Saturday 21st October 2023, to give instructions on its use and maintenance, so local people will have an opportunity to learn how the device operates".
Although a defibrillator talks to you and instructs you clearly in an emergency, St John Ambulance Cymru want the community to feel confident to use one, so are holding this demonstration free of charge. If you're local to the area and would like to attend this session, please come along!
"It means a lot to me personally, and to the other residents in Lower Tregare, that if the worst were to happen and the defibrillator needed to be used in a life-threatening situation, we now have one virtually on the doorstep, instead of miles away." said Julian.
St John Ambulance Cymru are proud to be involved with the project, making Tregare and Raglan safer places for all.
If you'd like to find out more about St John Ambulance Cymru's lifesaving work in the communities of Wales, please visit www.sjacymru.org.uk.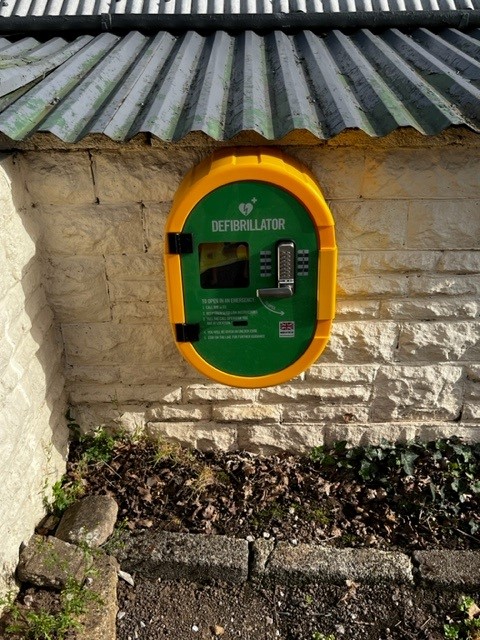 You can find the new defibrillator on the wall of the Cuckoo Camp Club on Warrage Road.