Our Operations Manager, Philip Kinsella, will travel 695 nautical miles across the Celtic Sea as part of an iconic boat race taking place next week, with a defibrillator in his kit.
Philip, 49, is taking on the five-day Rolex Fastnet Race alongside seven team members from across south Wales. The team have chosen to include a defibrillator as an extra precaution to safeguard the crew at sea.
"In an emergency, every second counts, both on land and at sea. We know that early defibrillation and quality CPR can save lives, so it just seemed right to make sure we are as prepared as possible before taking on the race."

Philip Kinsella
A defibrillator is a lifesaving device which is placed on a casualty who is in cardiac arrest. The defibrillator analyses the rhythm of the heart and delivers a shock if a shockable rhythm is detected.
The team, which is made up of Philip, Phil Cook, Will Boland, Gethin Gronow, Mark Lewis, Paul Appleby, Robert Lynbeck and Stuart Lewis, have completed a wealth of training and preparation to become race fit.
"As a team, we have a mix of experienced crew and together we've completed 300 mile qualifying races and our first aid training, as well as having made sure we've got all our lifesaving personal equipment and carried out safety checks on our boat."
But the team's addition of a defibrillator to their kit was a personal one as Philip explains:
"Having worked for St John Ambulance Cymru for five years, I've seen first-hand the difference a defibrillator can make in an emergency and so naturally, it was high on the list of additional safety gear and precautions to complement what we've already done to prepare."
The race was established in 1925, and is considered one of the classic big offshore races. It starts on the Isle of Wight and finishes in Cherbourg, France.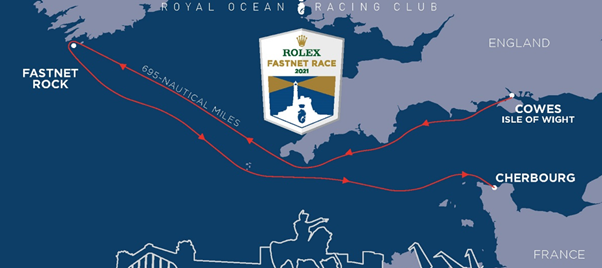 Photo: Rolex Fastnet Race
Competing has been a lifelong dream for Philip, who has been sailing for over twenty years.
The team will carry all their supplies including food and water with them for the race which can take anything from five to seven days depending on weather conditions.
"We're a group with different medical histories and even though we've prepared physically and mentally for the race, anything can happen when we get out on the water, and if we got into any kind of trouble, help could take hours."
The chance of surviving a cardiac arrest decreases by 10% for every passing minute. This could increase by up to 70% when a defibrillator is used.
"For us, having a defibrillator on board is just one more way we can keep ourselves safe. These devices really do save lives and so it would be fantastic if we can get more of them into our communities."
Philip and the team start the race on Sunday 7th August, and you can track their progress here.
More information about first aid training including defibrillator training can be found here.