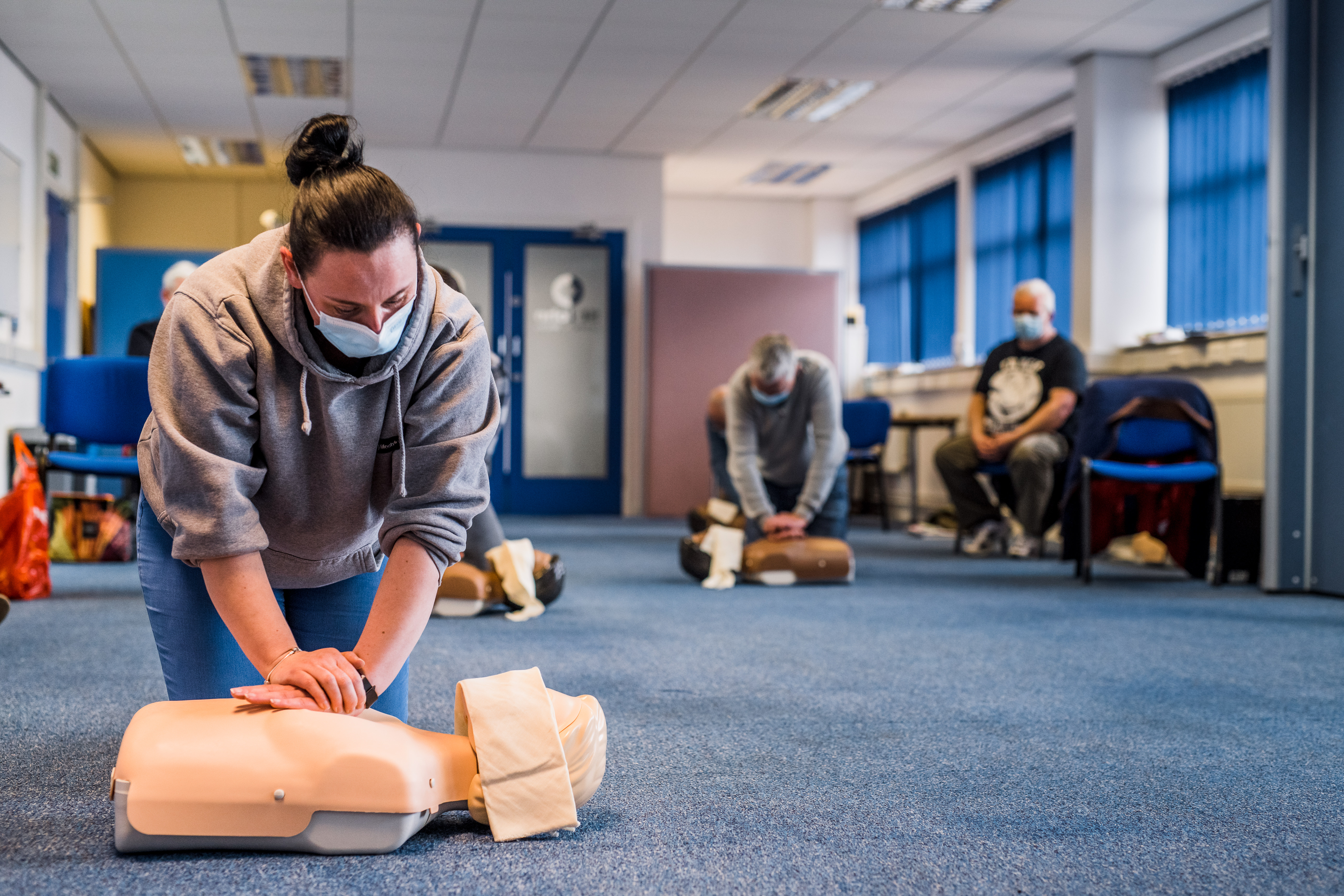 When it comes to learning essential first aid for the workplace, Emergency First Aid at Work (EFAW) is one of the most popular courses that employers select for their designated workplace first aider to attend. It teaches some of the most critical skills that can mean the difference between a life lost, and a life saved. It's also a transferable qualification that looks great on a CV.
Is emergency first aid at work enough for your workplace? This is a key question that an employer or HR professional will need to ask when selecting the course. While a popular course, it is important to check that the course meets your requirements identified through your first aid needs assessment.
In this blog article, we will look in more detail at EFAW, to help you decide whether it is the most suitable course for your business.
By the way, St John Ambulance Cymru teaches Emergency First Aid at Work at locations across Wales. As Wales' leading first aid training provider and as a standard setter for first aid, we provide the gold-standard training in Wales. Give us a ring on 0345 678 5646 or alternatively send an email to discuss your needs and to receive a no obligation quote.
Who is emergency first aid at work suitable for?
In terms of the individual, if you are above the age of 16 and have a solid understanding of English, then you will be able to join this first aid course.
Whether it is suitable for your business requires a deeper understanding of what kind of first aid incidents could occur in the workplace. In order to identify this, before booking any first aid course you will need to undertake a first aid needs assessment. This will help you identify whether emergency cover is sufficient, or whether a delegate would need to take a more in-depth course.
Generally speaking, emergency first aid at work is suitable for a workplace that is low risk. A workplace like this means that employees will not be using any machinery or tools that could cause an injury, and they are engaging in work that will not put them at risk of injury.
Examples of such workplaces include small offices, shops, and conference facilities. Employees will only be using tools such as computers, chairs, and desks. There should also be no pre-existing conditions amongst staff, that may mean additional first aid support could be required.
A workplace where EFAW is the most suitable course will also be one with very few areas, which means there are not too many different rooms, and work is not carried out on multiple floors.
Another important factor is how many employees there are in the workplace. Although there is no mandated legislation to specify the minimum or maximum number of employees, generally speaking if a business employs 25-50 people, then an EFAW qualification will be sufficient.
It is important to also be aware of any medical conditions of existing employees, and the potential of them causing a first aid emergency. Employees must feel safe at work, and safety will lead to greater productivity. You should even consider factors such as age into whether you need more in-depth cover than EFAW provides.
Is emergency first aid at work enough for my business?
This question can only be answered by you. If your first aid needs assessment has identified that an emergency first aider is sufficient for your business as it is small, low risk, and that staff now do not have any medical conditions that could cause a first aid incident, then it is likely that EFAW is a good fit for your business.
What will I learn on an emergency first aid at work course?
The Health & Safety Executive (HSE) mandates that the following topics must be covered during EFAW training:
Role and responsibilities of the first aider

Bleeding (minor and severe)

Casualty movement

Choking (adult)
CPR (adult) including the use of an AED

Fainting

Primary survey

Seizures (adult)

Shock
Treating an unresponsive casualty
How long does emergency first aid at work last?
An EFAW course lasts for 1 day. You will need to attend a course in person. The course will usually take place between 9:00-16:00, and that includes occasional breaks and time to complete a test at the end of the day.
Will I receive an EFAW certificate after the course?
Upon successful completion of the examination at the end of the day, delegates will be qualified emergency workplace first aiders, and be capable of acting as the initial responder to first aid emergencies in all kinds of businesses.
As part of this official qualification, you will receive a certificate which will be emailed to you. Some providers may send you a physical copy in the mail. What is important is that the certificate includes all the information as required by the HSE. This includes:
The name of the training provider.

The name of the candidate.

What qualification the certificate is for.
Detail that confirm the certificate has been issued for the purposes of complying with the requirements of the Health and Safety (First-Aid) Regulations 1981.

Confirmation that the certification is valid for three years.

The date from which the certificate commences.

A statement confirming that teaching was delivered in accordance with currently accepted first-aid practice.
It's important to be aware that after three years, your certificate will expire, meaning that the qualification is no longer valid. Unlike First Aid at Work where a requalification course is available, to remain qualified in emergency first aid at work you will need to take the course again in full.
What level qualification is emergency first aid at work?
According to the UK's Regulatory Qualification Framework, an emergency first aid at work certification is regarded as a level 2 qualification. This makes the course equal to the value of a GCSE grade A*-C (9-4).
Summary
Emergency first aid at work is one of the most popular first aid courses and will enable a successful delegate to act as an emergency first aider in critical first aid incidents before more qualified healthcare professionals arrive. There are certain factors that need to be taken into consideration to ensure that EFAW is the right course for your place of work. However, it is a great qualification to have that can ultimately help save lives.
St John Ambulance Cymru is the leading emergency first aid at work provider in Wales, and we teach EFAW at locations across Wales. We can even come to your place of work if six or more of you want to take the course.
Our expert commercial training team can help you identify whether this is the correct course for you and offer you a no-obligation quotation for free. Call on 0345 678 5646 or send an email to start your training journey with St John Ambulance Cymru today.