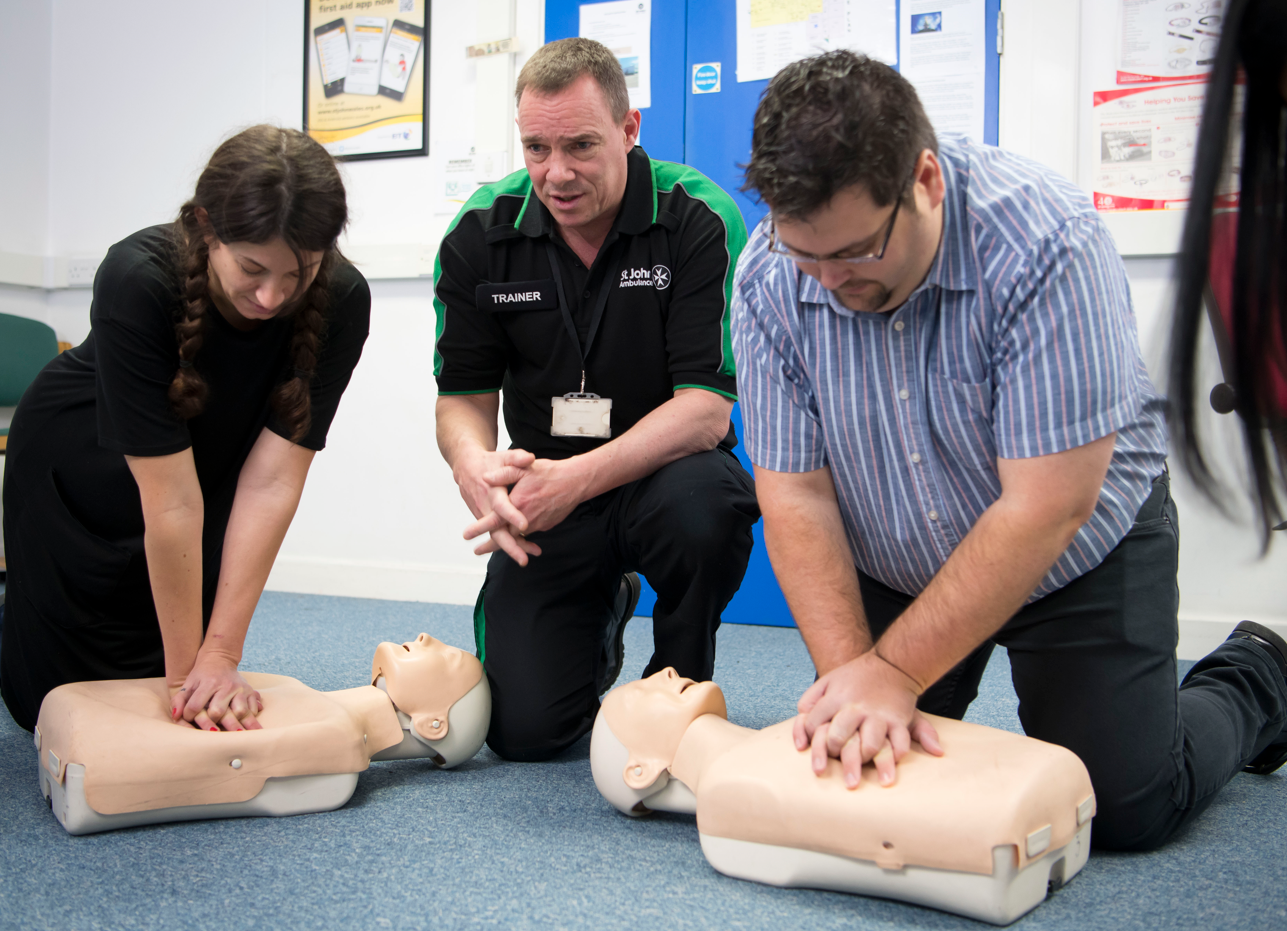 If you have been researching workplace first aid courses, then no doubt you have come across two qualifications in particular: First Aid at Work (FAW), and Emergency First Aid Work (FAWE). Although these courses may seem similar, there are some key differences that you must be aware of when selecting appropriate training for the workplace.
In this blog post, we'll explain in easy-to-understand terms the differences between these two first aid training courses and help you to decide which is the most suitable for your designated first aider to take.
By the way, did you know that St John Ambulance Cymru offers 3-year certifications in both First Aid at Work and Emergency First Aid at Work? We're the leading first aid training provider in Wales, so if you are looking to book a course, then look no further than us. If you want to book a course or ask any questions you may have, our Commercial Training Team will be happy to help. Give them a call on 0345 678 5646 or send them an email – no obligation necessary.
What is the first aid at work legislation?
First of all, it's important to understand what the law requires of employers. According to the Health and Safety (First-Aid) Regulations 1981, employers of all sizes must provide "adequate and appropriate equipment, facilities and people to ensure their employees receive immediate attention if they are injured or taken ill at work." This includes those organisations where there are five employees or less. You might be asking yourself now, what does adequate and appropriate equipment, facilities and people look like in practice?
You're not alone in asking this question. In fact, the law is quite vague because the needs of every business are so different. In this first instance, you should carry out a first aid needs assessment to identify what kind of coverage you need. The results of this assessment may indicate that you need a qualified first aider. At this point, it's important to be aware that if you want to be recognised as a qualified first aider in the UK, then you must hold a relevant first aid qualification. Both FAW and EFAW fulfil this requirement.
We can help you identify your first aid or health and safety needs with our free and easy to use requirements calculator. Use this to identify the level of coverage your business needs, and how many workplace first aiders you require.
If you have now reached the point where you have decided to have one of your colleagues train to become a workplace first aider, you need to identify which course is the most suitable, FAW or EFAW. Let's take a look at what makes these courses unique and help you to identify which is most suitable for you.
What is an Emergency First Aid at Work course?
Let's first look at what the Health & Safety Executive (HSE) says. So you know, the HSE is the UK's national regulator for workplace health and safety. What they say also therefore covers Wales. According to the HSE, someone who holds an EFAW certification is "qualified to give emergency first aid to someone who is injured or becomes ill while at work." An EFAW course must be held for six hours, with the content covered across one day. This includes time for an assessment at the end, as well as the opportunity to practice the skills you are learning.
According to the UK's Regulatory Qualification Framework, an emergency first aid at work certification is regarded as a level 2 qualification. This makes the course equal to the value of a GCSE grade A*-C (9-4).
An EFAW qualification is considered less comprehensive than a full FAW course as it will only cover the first aid training required for the most serious of medical emergencies. It's therefore strongly recommended that there are only a few situations in which an EFAW course is more suitable than FAW. Typically, this will be if there are only a small number of employees (up to 50), and the workplace is considered a low hazard. If you have more than 25 employees, then you will need one to be trained in EFAW.
What do we mean by low hazard? This generally means that employees will not be using any machinery or tools that could cause an injury, and they are engaging in work that will not put them at risk of injury. Examples of such workplaces include small offices, shops, and conference facilities. Employees will only be using tools such as computers, chairs, and desks. There should also be no pre-existing conditions amongst staff, that may mean additional first aid support could be required.
St John Ambulance Cymru offer a 1-day Emergency First Aid at Work course. During the day, you will learn emergency life-saving skills with a highly trained instructor. Topics covered include:
Role and responsibilities of the first aider
Bleeding (minor and severe)

Casualty movement

Choking (adult)

CPR (adult) including the use of an AED

Fainting
Primary survey

Seizures (adult)

Shock

Treating an unresponsive casualty
What is a First Aid at Work course?
The HSE states that some trained in FAW is "qualified to EFAW level but can also apply first aid to a range of specific injuries and illnesses."
The first most significant difference is that a First Aid at Work course lasts for three days, with six hours a day of training. Again, this includes an assessment at the end. You might remember that Emergency First Aid at Work is only held for one day. This alone tells you that not only is more content covered on FAW training, but you will also have more opportunities to have first-hand practical experience in the skills you are learning.
FAW is also considered a level 3 qualification. This makes it an equivalent qualification to an A-Level.
Another reason why most businesses choose their designated first aider to qualify in FAW is to do with the number of employees a business has:
In a low-risk environment, if there are more than 50 employees, then you will need at least one individual trained in FAW. After this, you need an additional FAW-qualified first aider for every 100 employees.

In a high-risk environment, if you have between 25-50 employees then you will need a first aider certified in FAW. Up to 100 employees you will need two FAW-certified first aiders. After this, you should add an additional two for every 100 employees.
You might be thinking at this point, is my place of work considered high risk, or a high-hazard workplace? According to the HSE, examples of this type of workplace include warehouses, engineering and assembly work, food processing, or places where employees are exposed to dangerous machinery, sharp instruments, construction equipment, or chemicals. If your workplace relates to any of these, then it will be classified high-risk by default.
Another thing to consider is the health, well-being and general demographics of the employees who are in the place of business. If they suffer from any pre-existing conditions, then someone who is certified in First Aid at Work will be better prepared to help them should an issue arise. This is true if employees are older also. That's why it's important when undertaking a first aid needs assessment to take as broad a view as possible to make sure you have the correct coverage for your team. As an employer, you must be sure that the level of cover you have provided is adequate and appropriate, as the HSE requires.
St John Ambulance Cymru's 3-Day First Aid at Work course covers everything that is included in the Emergency First Aid at Work training, as well a lot of other additional content, including:
Burns

Allergic reaction (including anaphylaxis)

Asthma

Bone, muscle and joint injuries
Chest pains (including heart attack)

Eye injuries, head injuries, spinal injuries

Low blood sugar

Poisons

Sprains and strains
To book your place or to ask any questions you may have, please do call our Commercial Training team on 0345 678 5646 or send them an email – no obligation necessary.
How long does a FAW or EFAW certification last?
Now we know the key differences between FAW and EFAW, it's important that you are aware of one key similarity between the two courses. An important aspect that is the same across the two courses is how long the qualification is valid for. Whether you take FAW or EFAW, you will receive a certificate that is valid for 3 years. This means that you will be qualified to be a workplace first aider for three years after you have completed the course. Before your certificate expires, you will need to requalify.
For EFAW, you should retake the course again. For FAW, there is a special 2-day First Aid at Work Requalification course available. This is often referred to as FAWR. The HSE also strongly recommends annual refresher training to ensure that first aid skills remain accurate and that you remain confident to deliver it in an effective manner. For this, First Aid at Work Update training will be more suitable, otherwise known as FAWU. To join this course, it doesn't matter if you took an FAW or EFAW course.
Summary
No matter if you take a First Aid at Work or Emergency First Aid at Work course, you will learn vital skills that can save a life in an emergency. Which course is the right one for you essentially depends on how many people work in your company and whether it is deemed low or high risk. You will also need to requalify after 3 years, and taking an annual first aid refresher course is strongly recommended by the UK's national H&S body.
St John Ambulance Cymru is Wales' leading workplace first aid training provider. Every year, thousands of people from all manner of industries learn essential first aid skills from our experienced and highly trained instructors. We offer courses in FAW, EFAW, FAWR and FAWU across Wales. If you'd like to know more, then contact our Commercial Training team on 0345 678 5646 or send them an email. We're here to make sure your workplace is as safe as it can be.