A survey conducted by Welsh Government found that just 48% of people had the confidence to use a defibrillator in an emergency. This rose to 95% for people who had received defibrillator training. *
To help save more lives, we're urging more people to learn how to use a defibrillator as part of our annual, nationwide campaign.
Each year 'Defibruary' seeks to help people become more defib-aware by encouraging them to either 'Learn', 'Locate' or 'Donate.'
Learn - how to use a defibrillator
Locate - your nearest device
Donate – and help St John Ambulance Cymru continue their lifesaving work in Wales
Thousands of people have already been given the confidence to use a defibrillator since our first Defibruary in 2018, and we're set to even more are expected to be trained this year with a number of free community training sessions taking place throughout February.
"Each year 8,000 people have a cardiac arrest in Wales. We know that the availability of defibrillators is vital to so they can be used in an emergency.

Our training ensures people know what to expect when using one of these lifesaving devices and it also gives them the confidence to use one in a life-threatening situation."

St John Ambulance Cymru Head of Training, Phil Morris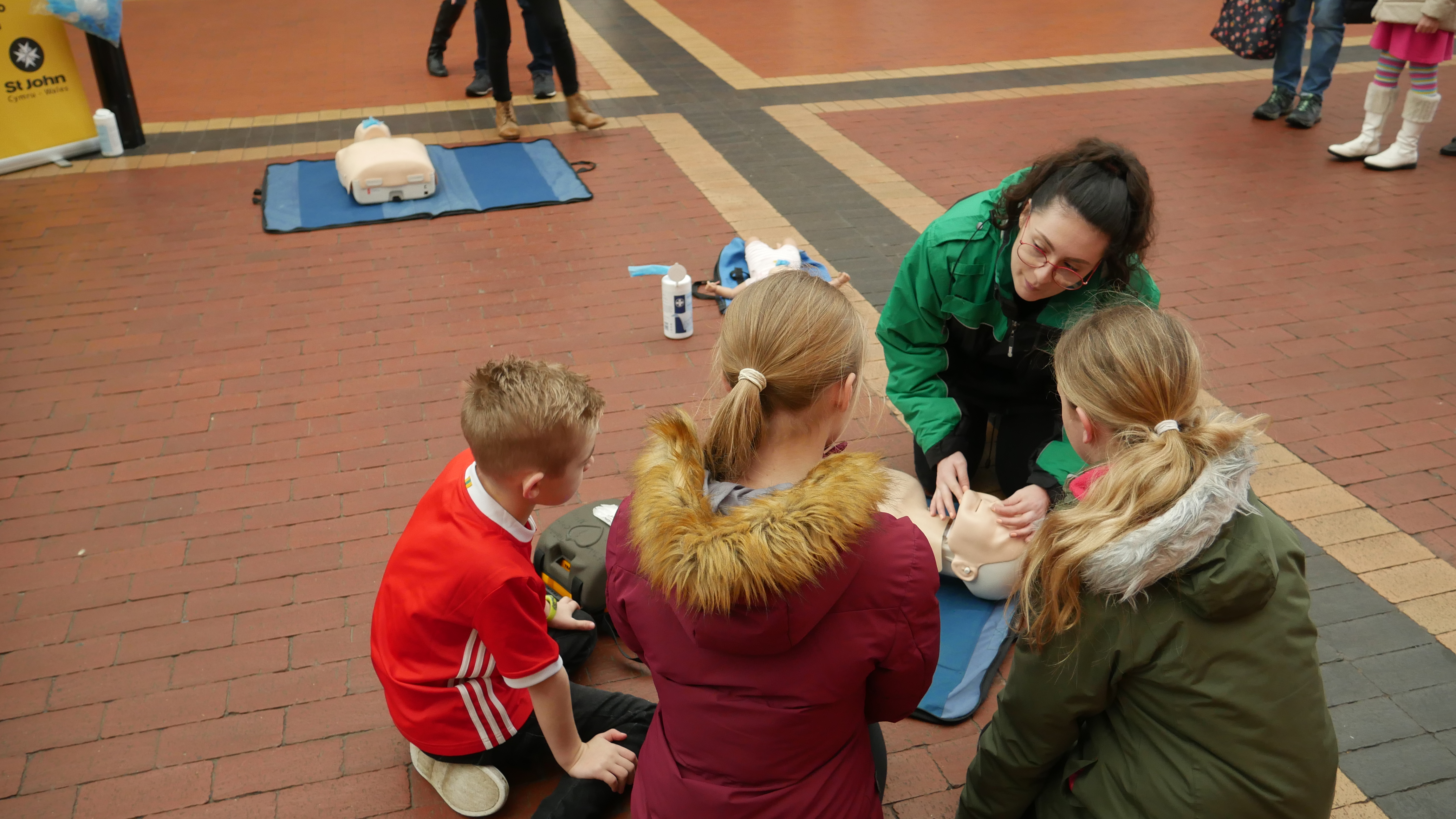 Above: free public training at Cardiff's Red Dragon Centre, February 2020
Billy's story
Billy's life was saved by a defibrillator. Watch his story.
"When someone is in cardiac arrest, medically speaking, they're dead and so the worst thing you can do is nothing. By giving CPR and using a defibrillator you're giving someone another chance to live.

Having used one myself, I've seen first-hand the difference using a defibrillator can make and I'd encourage everyone to learn how to use one because you never know when you might need it."

St John Ambulance Cymru Community Trainer, Dionne Ford
Defibruary training sessions are available throughout February and are available both online and at risk assessed face-to-face sessions.
Organisations and workplaces can also get involved by registering their defibrillator devices onto 'The Circuit' the UK-wide database - so more people can locate and use one in an emergency.
You can book your space onto a training session, or help us continue our lifesaving work here.
*Source: Welsh Government - Exploring public knowledge, attitudes and behaviours towards bystander CPR and defibrillation in circumstances of Out-of-Hospital Cardiac Arrest (2019)