St John Ambulance Cymru volunteers have been working hard to support Aberystwyth Freshers Week for another year. Volunteers ensured students were kept safe whilst enjoying their first week at university, providing vital first aid cover at the university's campus, the student union and in Aberystwyth town centre.
St John Ambulance Cymru has been supporting Aberystwyth Freshers Week for eleven years and plays a vital role in ensuring students enjoy themselves in a safe environment.
Volunteers set up a medical centre at the university for over a week, meaning individuals had medical help right on their doorstep. St John Ambulance Cymru also provided responding ambulances, a rapid response paramedic car and a static first aid point in the town centre.
Around twenty volunteers gave up their time each night to support the first aid cover, assisting students who had fallen ill, consumed too much alcohol or hurt themselves. The team consisted of first aiders, an ambulance crew and a team of healthcare professionals, who worked alongside the Student Union volunteers and the Dyfed Drug and Alcohol Service to provide key intervention when needed.
St John Ambulance Cymru volunteers from across the region come together each year to support the Freshers events and in particular, the university's St John Ambulance Cymru LINKS Division, who play a large role in the operation.
The St John Ambulance Cymru LINKS society is made up of student volunteers, and gives it's members the opportunity to learn lifesaving skills, support their local community and meet new people during their studies.
Throughout Freshers Week, the LINKS Division spent lots of time out and about, meeting new students. Rachael Stafford, a St John Ambulance Cymru volunteer who started off as a LINKS member and now oversees the group, says:
"The LINKS members hopefully make freshers students feel safer, as many of them go on their first nights out away from home without their usual support networks."

"They provide directions, a friendly face, help people get taxis home safely and provide medical assistance when needed" Rachael says.

"Aberystwyth Freshers is one of our favourite events on the calendar, getting to spend the whole nine days immersed in St John Ambulance Cymru, surrounded by friends (old and new), working together to keep the students safe and supported as they start their new adventure" she says.
The team were even visited by the Police and Crime Commissioner for Dyfed-Powys, Dafydd Llywelyn, who thanked volunteers for their hard work.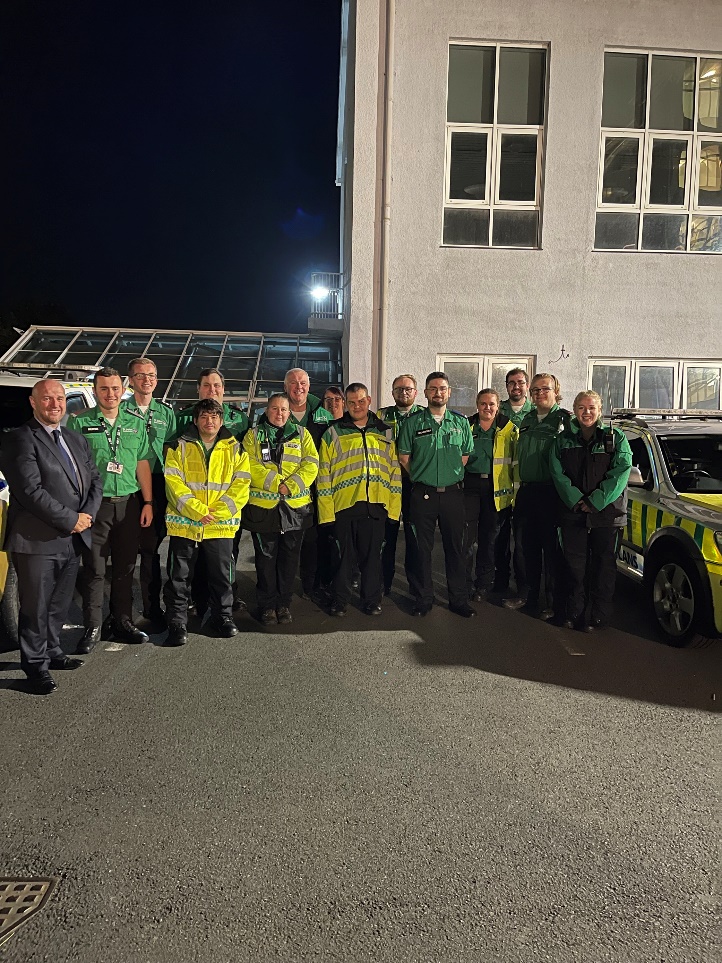 The team with Dafydd Llywelyn.
St John Ambulance Cymru are celebrating another successful year of first aid cover at Freshers Week and are encouraging students of Aberystwyth University to get involved with their LINKS society.
St John Ambulance Cymru's LINKS societies are based in Cardiff, Swansea, Aberystwyth, Bangor and Wrexham Universities and are a great way to develop both your personal and professional skills. They are also the perfect opportunity to make new friends and support exciting local events.
You can find out more about the St John Ambulance Cymru LINKS here.